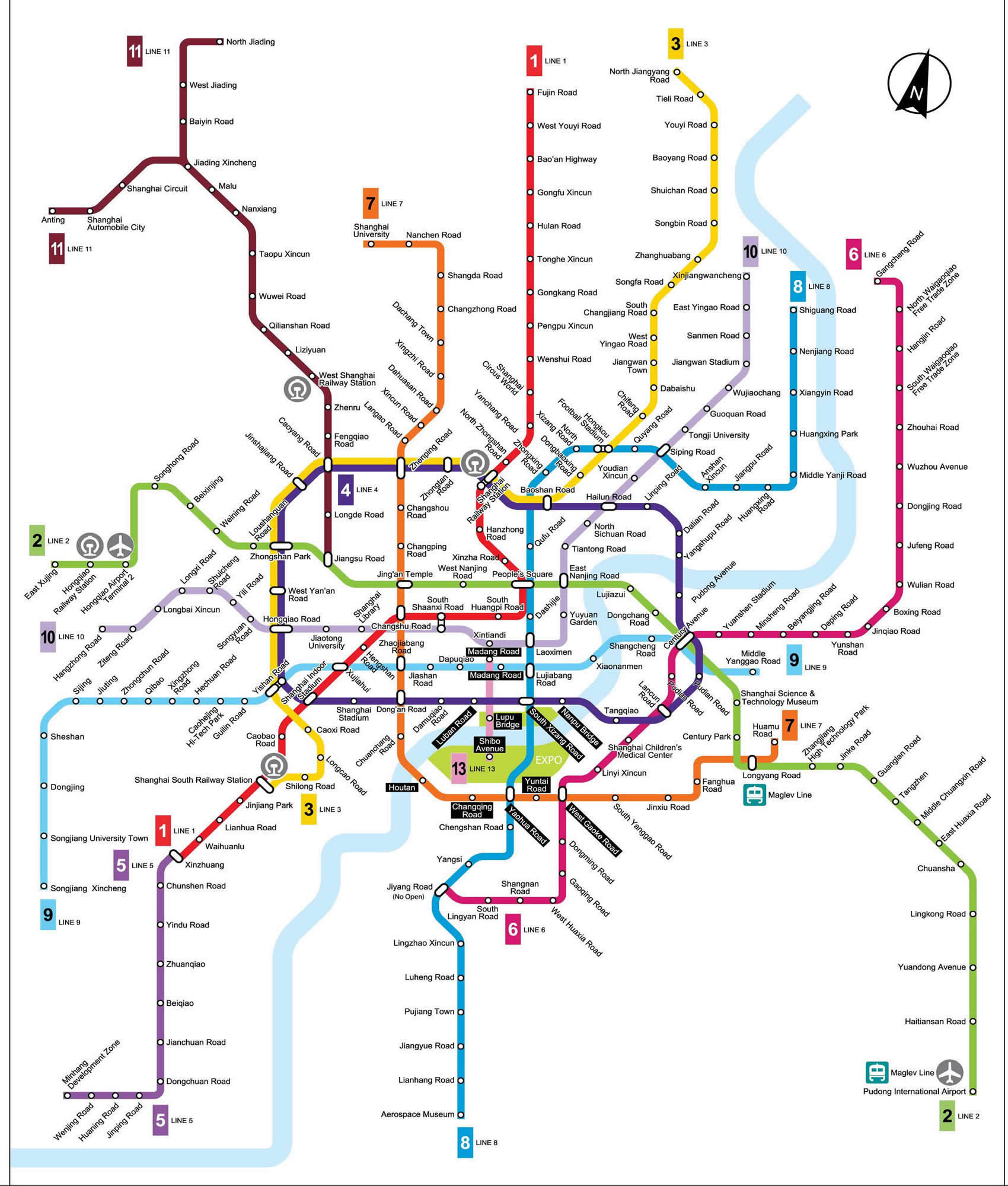 Shanghai Subway Map New
Like many other metro systems in the world, Shanghai Metro is using a distance-based fare system. As of September 15, 2005, after Shanghai Municipal Government raised the price, fares range from 3 yuan for journeys under 6 km, to 8 yuan for journeys over 46 km.
As of December 25, 2005, Shanghai uses a "one-ticket network", which means that interchanging is possible between all interchange stations without the purchase of another ticket where available. In the event of riding beyond the value of your ticket, you may pay the difference at a Service Center near the main turnstiles.
Since June 1, 2008, users of the Shanghai Public Transportation Card can interchange at Shanghai Railway Station, Yishan Road and Hongkou Stadium without paying another base fare.
Line 1
Xinzhuang - Waihuan Road - Lianhua Road - Jinjiang Park - Shanghai South Railway Station - Caobao Road - Shanghai Indoor Stadium - Xujiahui - Hengshan Road - Changshu Road - South Shanxi Road - South Huangpi Road - People's Square - Xinzha Road - Hanzhong Road - Shanghai Railway Station - North Zhongshan Road - Yanchang Road - Shanghai Circus World - Wenshui Road - Penpu Xincun - Gongkang Road - Tonghe Xincun - Hulan Road - Gongfu Xincun - Bao'an Highway - West Youyi Road - Fujin Road

Line 2
Songhong Road - Beixinjing - Weining Road - Loushanguan Road - Zhongshan Park - Jiangsu Road - Jing'an Temple - West Nanjing Road - People's Square - East Nanjing Road - Lujiazui - Dongchang Road - Century Avenue - Shanghai Science and Technology Museum - Century Park - Longyang Road - Zhangjiang Hi-Tech Park

Line 3
Shanghai South Railway Station - Shilong Road - Longcao Road - Caoxi Road - Yishan Road - Hongqiao Road - West Yan'an Road - Zhongshan Park - Jinshajiang Road - Caoyang Road - Zhenping Road - Zhongtan Road - Shanghai Railway Station - Baoshan Road - Dongbaoxing Road - Hongkou Football Stadium - Chifeng Road - Dabaishu - Jiangwan Town - West Yingao Road - South Changjiang Road - Songfa Road - Zhanghuabang - Songbin Road - Shuichan Road - Baoyang Road - Youyi Road - Tieli Road - North Jiangyang Road

Line 4
Yishan Road - Hongqiao Road - West Yan'an Road - Zhongshan Park - Jinshajiang Road - Caoyang Road - Zhenping Road - Zhongtan Road - Shanghai Railway Station - Baoshan Road - Hailun Road - Linping Road - Dalian Road - Yangshupu Road - Pudong Avenue - Century Avenue - Pudian Road - Lancun Road - Tangqiao - Nanpu Bridge - South Xizang Road - Luban Road - Damuqiao Road - Dong'an Road - Shanghai Stadium - Shanghai Indoor Stadium - Yishan Road

Line 5
Xinzhuang - Chunshen Road - Yindu Road - Zhuanqiao - Beiqiao - Jianchuan Road - Dongchuan Road - Jinping Road - Huaning Road - Wenjing Road - Minhang Development Zone

Line 6
Gangcheng Road - North Waigaoqiao Free Trade Zone - Hangjin Road - South Waigaoqiao Free Trade Zone - Zhouhai Road - Wuzhou Avenue - Dongjing Road - Jufeng Road - Wulian Road - Boxing Road - Jinqiao Road - Yunshan Road - Deping Road - Beiyangjing Road - Minsheng Road - Yuanshen Stadium - Century Avenue - Pudian Road - Lancun Road - Shanghai Children's Medical Center - Linyi Xincun - West Gaoke Road - Dongming Road - Gaoqing Road - West Huaxia Road - Shangnan Road - South Lingyan Road

Line 7
Huamu Road - Longyang Road - Fanghua Road - Jinxiu Road - South Yanggao Road - West Gaoke Road - Yuntai Road - Yaohua Road - Changqing Road - Chuanchang Road - Dong'an Road - Zhaojiabang Road - Changshu Road - Jing'an Temple - Changping Road - Changshou Road - Zhenping Road - Langao Road - Xincun Road - Dahuasan Road - Xingzhi Road - Dachang Town - Changzhong Road - Shangda Road - Nanchen Road - Shanghai University

Line 8
Shiguang Road - Nenjiang Road - Xiangyin Road - Huangxing Park - Central Yanji Road - Huangxing Road - Jiangpu Road - Anshan Xincun - Siping Road - Quyang Road - Hongkou Football Stadium - North Xizang Road - Zhongxing Road - Qufu Road - People's Square - Dashijie - Laoximen - Lujiabang Road - South Xizang Road - Yaohua Road - Chengshan Road - Yangsi - Linzhao Xincun - Luheng Road - Pujiang Town - Jiangyue Road - Lianhang Road - Aerospace Museum

Line 9
Songjiang Xincheng - Songjiang University Town - Dongjing - Sheshan - Sijing - Jiuting - Zhongchun Road - Qibao - Xingzhong Road - Hechuan Road - Caohejing Hi-Tech Park - Guilin Road - Yishan Road
Line 10
Hangzhong Road - Ziteng Road - Longbai Xincun - Longxi Road - Shuicheng Road - Yili Road - Songyuan Road - Hongqiao Road - Jiaotong University - Shanghai Library - South Shaanxi Road - Xintiandi - Laoximen - Yuyuan Garden - East Nanjing Road - Tiantong Road - North Sichuan Road - Hailun Road - Youdian Xincun - Siping Road - Tongji University - Guoquan Road - Wujiaochang - Jiangwan Stadium - Sanmen Road - East Yingao Road - Xinjiangwancheng

Line 11
Jiangsu Road - Longde Road - Caoyang Road - Fengqiao Road - Zhenru - Shanghai West Railway Station - Liziyuan - Qilianshan Road - Wuwei Road - Taopu Xincun - Nanxiang - Malu - Jiading Xincheng - Baiyin Road - West Jiading - North Jiading - Shanghai Circuit - Shanghai Automobile City - Anting
Home Page
|
Rooms
|
Location
|
Shanghai World Expo
|
Subway Map